Kenneth Gladney, a 38-year-old conservative activist from St. Louis, said he was attacked by some of those arrested as he handed out yellow flags with "Don't tread on me" printed on them.

He spoke to the Post-Dispatch from the emergency room of the St. John's Mercy Medical Center, where he said he was waiting to be treated for injuries to his knee, back, elbow, shoulder and face that he suffered in the attack.

Gladney, who is black, said one of his attackers, also a black man, used a racial slur against him before the attack started.
But wait — it gets even better:
The Saint Louis Post-Dispatch is reporting that one of their own, reporter Jake Wagman, was one of six people arrested in connection with the beating of a conservative activist outside of a town hall forum held by Democrat Congressman Russ Carnahan.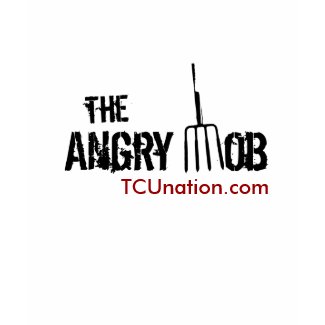 Angry Mob T Shirt
by
TCUnation
Browse other
Angry Mob T-Shirts